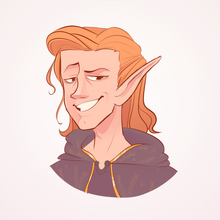 Varne Stormleaf is the self-declared (and often repeated) Greatest Wizard in All of Existence and in Every Plane. His ongoing goal is to prove to everyone that it is he, quite simply, The Best.
He is, arguably, the Hey Boy of Have Spellbook, Will Travel.
Varne is voiced by the show's creator, co-producer and co-writer, Rudy Basso.
He is one of the Main Characters.